---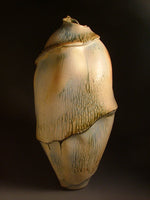 I don't title most of my work.  This piece was named by a potter I held in high esteem.  He came in my booth at an art fair and looked at this piece for a while.  I was worried about what he might say.  He turned to me and said "This piece is so luscious."  
Its fired to cone ten in reduction, glazed with a fake ash and oversprays.  47" tall by 23" by 22"
Due to the nature of large ceramics, shipping will have to be determined after purchase or you can contact me and I can get you a quote.